Testimonials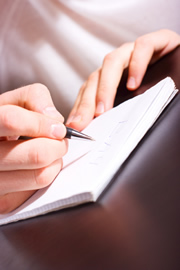 "We would like to take this opportunity to express our satisfaction and thanks for your help recently - with very well presented property details, professional, yet friendly service and excellent communication throughout. We will have no hesitation in recommending Symonds Reading to others". Mr Ch & HJ Smith, Goring-bySea.
"I have to say the service we received from the Symonds Reading was out of this world. I never had to contact them for an update and was always kept up to speed with the progress of our sale. We explained the need to move fast and thanks to Symonds Reading that is exactly what happened. Chris in particular was fantastic in the way he personally dealt with our sale and ensured all deadlines were met". Pete & Katie Raynesford.
"Steve, I would like to say on behalf of Louise and I that both yourself and your team were consumate professionals throughout our dealing with you. By the time your competitors had rung us back we had made an offer and had it accepted, need we say more! Keep up the good work and wish you well in 2011". Craig & Louise Bensted
"In my experience, Symonds Reading were very friendly, approachable and helpful. They kept me informed as to the progress of my move and were more than willing to sort out any queries I had along the way. A very good service was provided by all of their staff". Tracy Carter.
"I have known Ian Ward as an Estate Agent over the last 20 years and have continued to seek him out each and every time I have either been looking for property or, more importantly, each time I have sold a property. He now heads a team of fantastic staff at Symonds Reading, Worthing Office, who employ an ethos that is rarely found these days - to be treated in an honest, courteous, friendly and efficient manner. Most importantly I have found the rare quality in a firm of people who actually listen to what I am saying, act upon it, and come back and report on their findings rather than leave me high and dry wondering if anything has happened.

I always use Ian and his team and will continue to do so, and have no hesitation in recommending Symonds Reading to anyone who wishes for excellent service.

I would also like to thank Ian and the team for their assistance over the last few months in making the move for my aged mother from her home of 26 years to a flat as stress free as possible. It has not been an easy task and they have handled her sale and purchase, keeping the whole chain of people under the one umbrella of Symonds Reading, and making the transition as smooth as possible". Mrs P Woods.
"We would like to thank you and your team for your professional and pro-active help in the purchse of our new home. You kept us well informed of the progress along the chain. At all times you were helpful and your communication was first class and we highly recommend you and your company. Energy wise we should say AAA+++". Mr G & Mrs S Green.
"I would like to thank everyone at Symonds Reading for all their efforts towards my move. They were very efficient and kept me fully informed from day one. They helped me with my search for a property and after completion they were still available for any extra information I requested. I would not hesitate to use Symonds Reading in the future." C Heryett.
"Dear Ian & the team,
Over the past few months I have had the pleasure of being involved in buying or selling 3 properties with your company. Normally I would not link the words 'pleasure' and 'selling/buying properties' in the same sentance.

I have to complement each and every one of you on the way you conduct yourselves in what can be a much maligned profession. Not all companies work to the high standards you do. I have already recommended 'Symonds Reading' to a number of friends who are thinking of moving, I hope they will use your services" A F Butcher
"I just wanted to say a very big and heartfelt thank you for finally selling Longlands for us. Its been a VERY long haul but we got there. Your perseverance, good humour, advice and utter professionalism have massively exceeded expectations at every twist and turn in the saga. Personally I have enjoyed interacting with you so much that I almost wish it could have dragged on longer" Mr R Myers
"Making the move from the East Midlands to Worthing was never going to be easy but throughout the whole period, and particulary whenever a critical moment appeared, we always felt confident that if we contacted your office you would do everything you could to deal with the situation. That certainly proved to be the case and there were times when we felt that your office went much more than the extra mile to ensure things were as painless as possible for us." Mr & Mrs S Fox